Description du produit
Yanhua Mini ACDP authorization & adapter of BMW CAS1 - CAS4+ IMMO & ODO. Used to program key and adjust mileage for BMW CAS1 - CAS4+ without soldering but with security.

Yanhua Mini ACDP programming master Module7 Refresh BMW keys
Change a lot!
Subversion
The first in the world
Tesla: NO longer needs engines
YANHUA: keys programming - NO longer need soldering iron
Locksmith: NO longer needs soldering work.
Programming: NO need soldering

Yanhua Mini ACDP Programming Tool Workable car models:

BMW CAS1, CAS2, CAS3, CAS3+, CAS4, CAS4+, FEM, BDC dashboard and Immobilizer.
Read BMW ISN code.
Read and write Fujitsu CPU MB91F dashboard of Honda/Hyundai/Kia etc.
Read and write all the 8pin IC chip.
Workable OS and devices:

IOS iPhone
IOS computer
PC
Android phone with the Qualcomm chip

Note: The Huawei device doesn't work for the tool.

Module Number
Module Name
Function
Price (USD)
SK247

ACDP Programmer

Basic Module

Support 93 /24/ 25 / 35/ 95 Series EEPROM in circuit programming (ICP) and on adapter board programming (OBP), and parts of Freescale / NEC MCU in circuit programming(ICP). This module is a necessary basic configuration for other modules.
159$
SK247-1
CAS Module
(1) Support CAS1 – CAS3+ IMMO key programming by OBD or ICP mode, Mileage reset, Read/Write EEPROM and FLASH data.
(2) Support CAS4/CAS4+ IMMO key programming in circuit programming (ICP), Mileage reset, Read/Write EEPROM and FLASH data.
299$
SK247-2
FEM/BDC Module
Support FEM/BDC IMMO key programming by ICP or OBP mode, Mileage reset, Recover/Backup data.
339$
SK247-3
ISN Module
Read/write N20/N55/N13 ISN code via OBD.
Read/write MSV80/MSD85 ISN code without opening DME shell.
Read/write other DME ISN code by opening DME shell.
199$
SK247-4
35160 Module
Support erase/adjust mileage of 080DOWQ/T,160DOWQ/T EEPROM.
99$
SK247-5
Fujitsu CPU MB91F Module
Support Fujitsu CPU MB91F (Honda Fit, KIA K3/K5, Sonata 9, etc.) Mileage adjustment.
79$
SK247-6
MQB/MMC Instrument
upport parts of VDO mileage adjustment of VW MQB platform via OBD,and Passat MMC (NEC D70F3525 + 95320) instrument adjustment after years 2015 by ICP mode.
79$
SK247-7
Refresh BMW key
Refresh BMW E chassis/F chassis key to make BMW keys can be used repeatedly.
50$
SK247-8
FRM module (FRM Footwell module)
Read and write BMW FRM module (FRM Footwell module) 0L15Y chip EEPROM/FLASH data. Read and write 3M25J chip EEPROM/D-FLASH/P-FLASH data.
30$
Note: From SK247-1 to SK247-8, the package doesn't include the main unit. For the new user, you need to buy extra main unit (sk247), if you already have the main unit, just buy the authorization with adapter.
BMW: CAS4/FEM/BDC/16ODOWT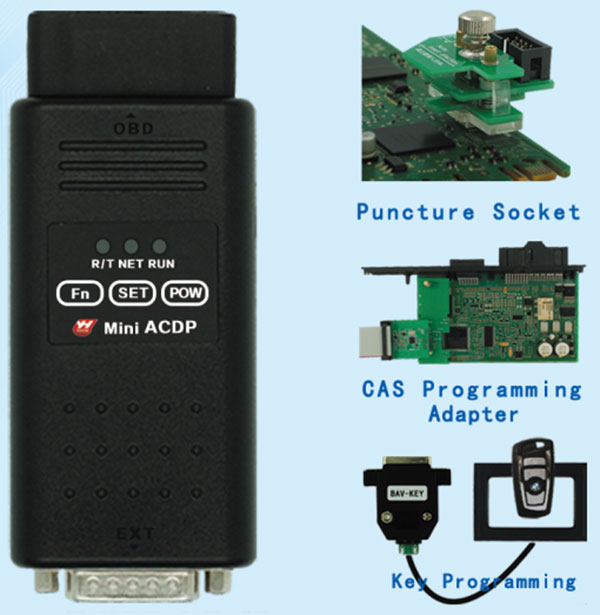 Programming with security: (No need solder anything yourself)

WIFI connection Free connection

1. Overturn the traditional work mode - Single operation is changed to team cooperation
2. Change the operation mode - PC operation is changed to mobile phone operation
3. Change the test connection mode - Electric soldering iron is changed to no-solder dedicated connector
4. Changed from artificial observation to intelligent monitoring Artificial observation / trying is changed to automatic detection algorithm, grap hical in dication the relability of connection. Ensure the data is not damayed and lost
5. Change the service mode - Offline service is changed to online synchronous service
IMMO/Mileage Programming

No need to remove chip
No need soldering
No need to cut the line
No need to lift the pin

Functions

1. Memory programming:
Support 93/24/25/35/95 series EEPROM in circuit (ICP)and on board(OBP)programming and parts of Freescale/ NEC MCU in circuit programming(ICP).
2. BMW module programming:
(1) Support cas1-cas4+ and FEM/BDC IMMO key programming, mileage reset, program recovery.
(2) BMW engine ECU data reading and ISN code reading
3. VW module programming: MMC instrument
4. Instrument mileage and airbag ECU reset/maintenance is under development.
5. BENZ. BMW Audi and various models are upgraded successively
Install ACDP App from App Store.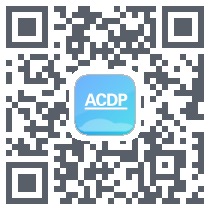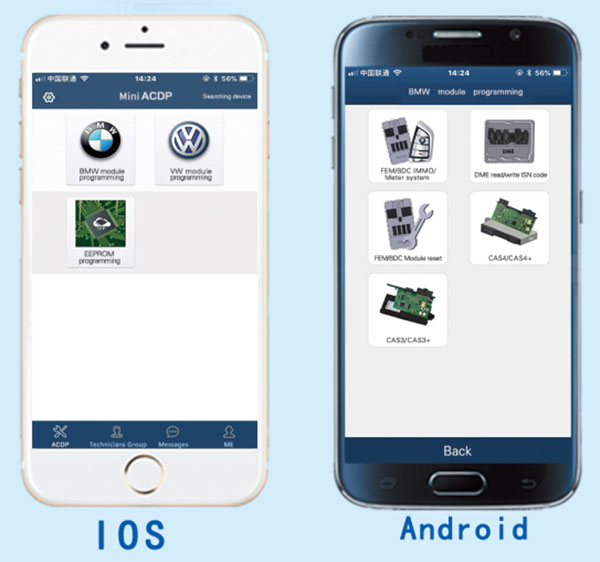 ICP: Memory and MCU programming In Circuits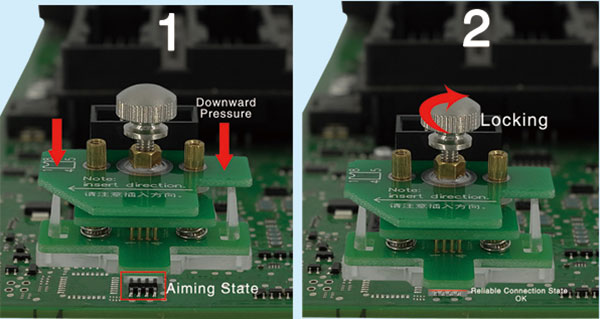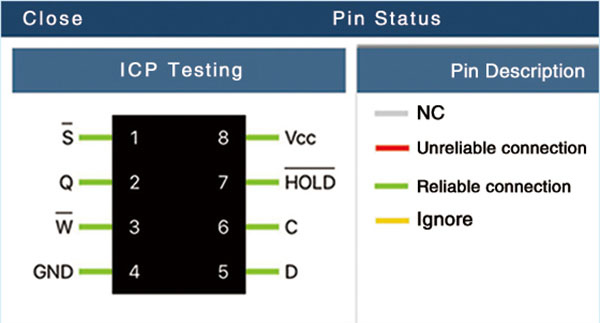 MCU programming in Circuits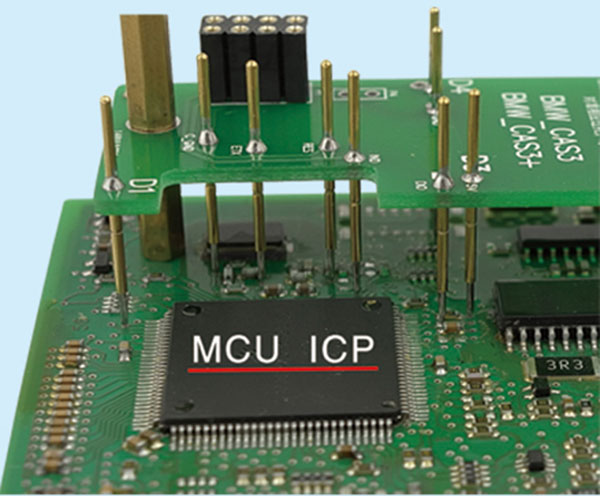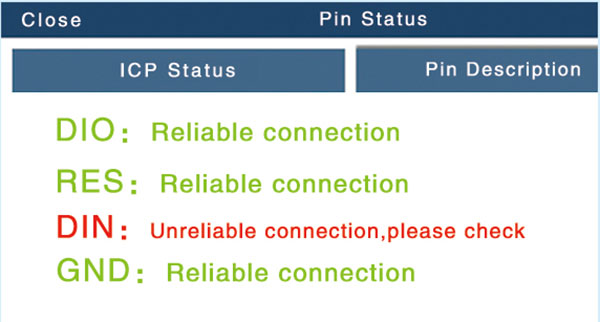 ACDP programming master configuration list: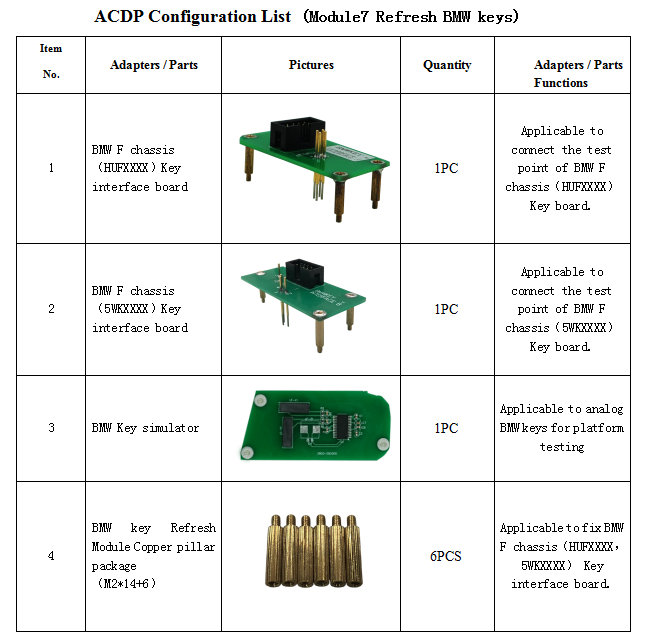 Package includes:
1pc x BMW F chassis(HUFXXXX)Key interface board
1pc x BMW F chassis(5WKXXXX)Key interface board
1pc x BMW Key simulator
6pc x BMW key Refresh Module Copper pillar package(M2*14+3)

Contact information:

Phone Number: 86-13545069274

E-mail:Sales@EOBDII.fr

Skype:sales@eobdii.fr

Whatsapp: 86-13545069274



Avis: Avant de faire la commande sur mon site, s'il vous plaît enregistrer votre compte paypal pour protéger la transaction.


Quel est le sens de QC marque sur produit?

1. Le QC marque signifie que ce produit a passé letest de notre ingenieur.
2. Le QC marque signifie que le produit est de notre société.
3. Le QC marque signifie que le produit obtiendra la garantie.

Attention les risques viennent de la douane:

Les colis DHL envoyés vers l'outre-mer de la france (Martinique, Réunion, Guadeloupe etc. ) ont peut-être des frais de douane, merci de votre compréhension.