Description du produit
2M2 Magic Tank is an automatic car key cutting machine, which can be used via Bluetooth on Android system without battery.
Newest 2M2 Magic Tank Automatic Car Key Cutting machine controlled by bluetooth link to the mobile phone only Support Android Without Battery
2M2 Magic Tank Automatic Car Key Cutting machine STANDARD VERSION
Database version:
2019.0612
Top Reasons to get 2M2 Magic Tank Automatic Key Cutting Machine
1.You don't need to learn it.Just open the APP and do it
2.Special models do not need to change the fixture, just follow the APP prompt
3.Cutting for Ford for Mondeo (FO21), for Jaguar (TEB1) round key, only need to clip the key blank once,
fully automatic completion, global patent technology
4.For new users do not know the key, directly against the picture selection
5.The motor is powerful, can reach 12,000 RPM (Revolutions Per Minute),
cutting speed is the fastest in the same competition
6.Double shaft design, avoid frequent replacement of milling cutter and needle
7.The standard fixture is a 2-in-1 fixture, which can be used for cutting the vertical milling blank and the key of the horizontal milling blank.
It is not necessary to change the fixture frequently
8.162T For Volkswagen 4 sides, only need to be clamped once, can be fully automatic four side cutting
9.Toy2 does not need special fixture, directly cut the key, other manufacturers need to install gasket fixture
10.For Volkswagen's hu66 is also directly available in this standard fixture for direct cutting.
At present only our fixture can do, other brands have to change the fixture or put a special fixture on it
11.
2M2 Magic Tank Key Embryo Reference List
2M2 Magic Tank Automatic Car Key Cutting machine Specifications:
Standard version
Milling spindle
Brushless Motor
Transmission mechanism
Ball screw
Guide rail
Cross roller guide
Body structure
Aluminium alloy
Shell structure
Engineering plastic
Clamp/Fixture
2 in 1 fixture
Additional fixture
HU64 Mercedes-Benz fixture HU64
Control interface
Android App
Weight
10.8KG
Warranty
Two years
Power supply
Adapter
2M2 Magic Tank Automatic Car Key Cutting machineSupported Vehicles:
Europe:
For ALFAROME, For AUDI, For BMW, For CITROEN, For FERRARI, For FIAT, For FORD-EU, For HOLDEN, For IVECO, For JAGUAR,
For LANCIA, For Land Rover, For LDV, For MAN, For MASERATI, For MERCEDES-BENZ, For MINI, For OPEL, For PEUGEOT,
For PORSCHE, For RENAULT, For ROVER, For SAAB, For SEAT, For SKODA, For VAUXHALL, For VOLKSWAG, For VOLVO
USA:
For BUICK, For CADILLAC, For CHEVROLE, For CHRYSLER, For DODGE, For FORD-USA, For HUMMER, For LINCOLN, For MERCURY

Japan & Korea:
For ACURA, For DAIHATSU, For HONDA, For HYUNDAI, For INFINITI, For KIA, For LEXUS, For MAZDA,
For MITSUBIS, For NISSAN, For SSANGYON, For SUBARU, For SUZUKI, For TOYOTA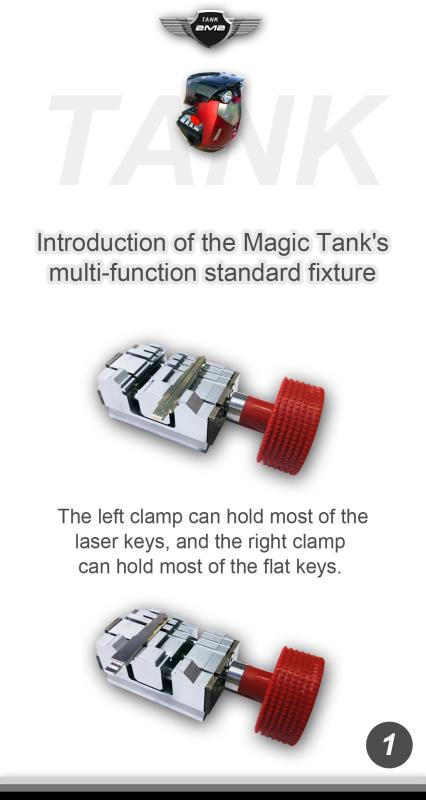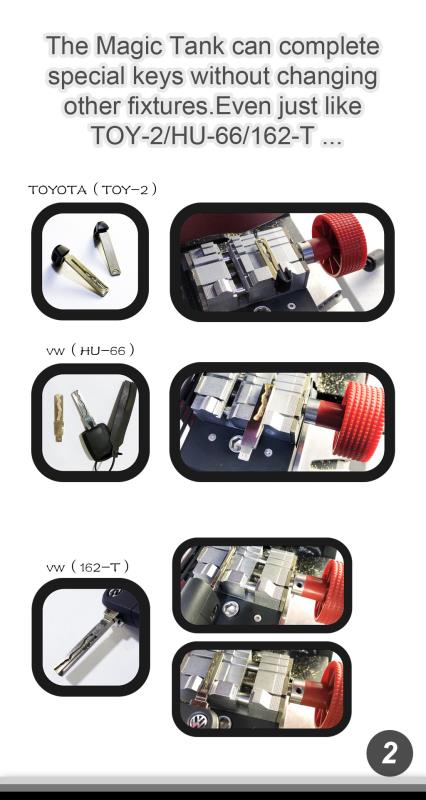 2M2 Magic Tank Key Cutting Machine PCB
Package includes:
1pc x Newest 2M2 Automatic Car Key Cutting machine

Contact information:

Phone Number: 86-18995643579

E-mail:Sales@EOBDII.fr

Skype:sales@eobdii.fr

Whatsapp: 86-18995643579