Description du produit
Les séries de voitures Creader Elite sont des outils de diagnostic intelligents et pouvant être mis en réseau avec le système Android. Launch Creader Elite AUDI est destiné aux voitures AUDI. Il dispose de fonctions OBD complètes qui répondent le mieux aux besoins du marché du bricolage des voitures particulières et prend en charge un système complet et un logiciel de modèle complet.
Product Introduction:
Creader Elite car series are intelligent and networkable diagnostic tools with Android system. Launch Creader Elite AUDI is for AUDI cars. It has full OBD functions which best meet the needs of the passenger car DIY market, and supports a full-system and full-function model software. The software needs to be renewed after one year to upgrade to a new version, at a cost of 19.95 USD/year.

It can be used in small auto repair shop or at home for personal auto repair.
Product Functions:
Full system full function
DTC query
Automatic VIN code recognition
OBD full function diagnosis
Connect to WiFi and automatically upgrade
Support diagnostic report upload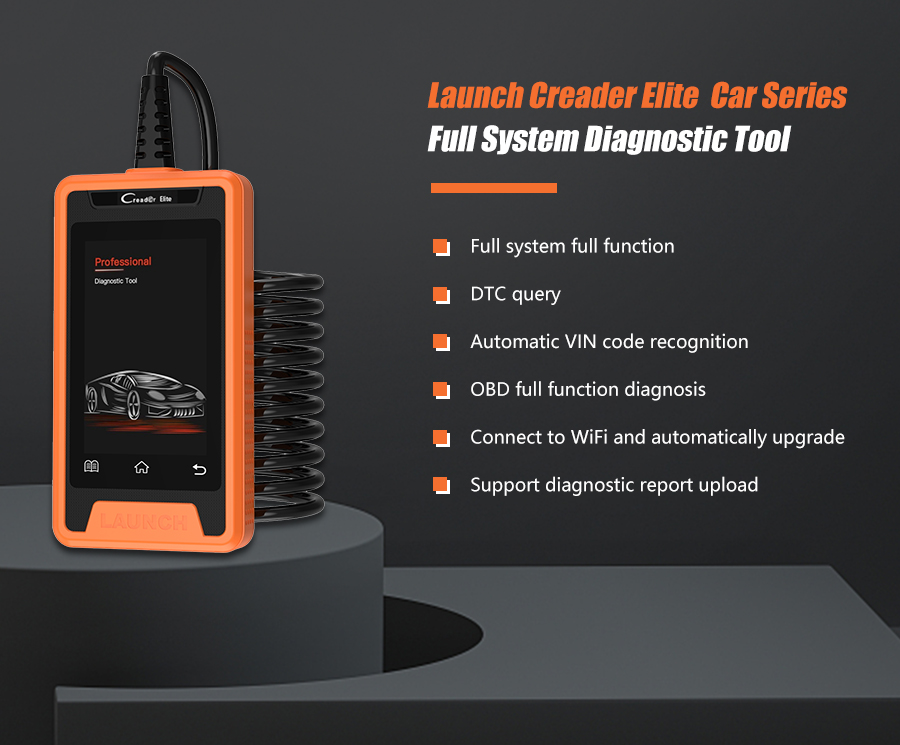 Product Features:
1. Support full-system full-function diagnosis
2. Support automatic identification of VIN code to match models
3. Support OBD full function
4. Support automatic generation of diagnostic report and upload
5. 4-inch touch screen
6. Support multiple languages: English, French, German, Italian, Russian, Portuguese, Japanese, Korean and Traditional Chinese
Product Specifications:
| | |
| --- | --- |
| LCD | 4 inches, 480*800P touch screen |
| OBD II interface input voltage | 9V~18V |
| Storage Temperature | -20℃~70℃ |
| Size | 160*88*25.5mm (length*width*thickness) |
| Net Weight | <500g |
Package Includes:
1pc x Launch Creader Elite AUDI
1pc x USB Cable
1pc x Manual
1pc x Quick Start Guide

Contact information:

Whatsapp: +8618995643579

E-mail:Sales@eobdii.fr





Méthode d'expédition et délai de livraison:

Navire d'entrepôt de l'UE: 3-7 jours ouvrables. Il y a des produits chauds dans l'entrepôt britannique. Expédier de l'entrepôt britannique n'est pas nécessaire pour payer les droits de douane.
Expédition DHL: 5-7 jours ouvrables. Parfois, il y a des droits de douane, nous allons donc déclarer un prix inférieur sur la facture. Si l'adresse est une région éloignée, vous devez payer le fret à distance ou nous l'enverrons par une autre méthode.
Yanwen Poste: 15-18 jours ouvrables, pas besoin de payer les droits de douane pour les pays européens et il n'y a pas de régions éloignées.
4PX Express: 7-10 jours ouvrables, il n'y a pas de taxe.

Kindly Note: Pour les clients de GUADELOUPE et MARTINIQUE et Réunion, il n'y a pas de bon service postal
Lorsque vous passez commande, veuillez choisir la méthode d'expédition express