Description du produit
La version originale de V2020 SVCI Abrites Commander de l'outil de programmation de diagnostic IMMO prend en charge des fonctions de base telles que le diagnostic de panne, la suppression des codes de panne, la lecture de flux de données et les tests de mouvement pour les nouveaux modèles de 2019.
Original V2020 SVCI FVDI ABRITES Commander Full Version Auto Diagnostic Tool avec 21 Latest Software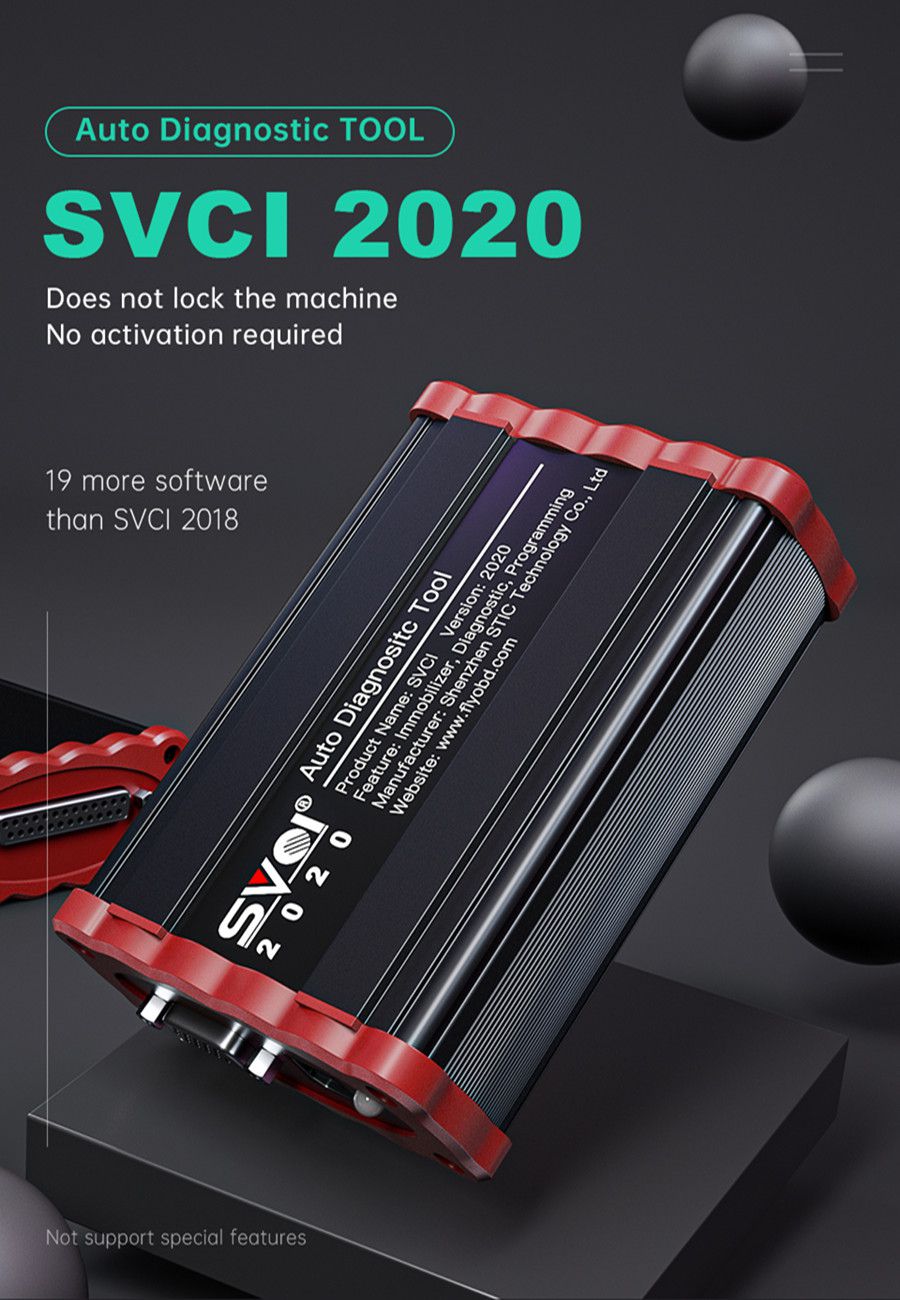 Top Reasons to Get V2020 SVCI
Ne nécessite pas d'activation; ne sera pas verrouillé.
Ajoute un logiciel Extar pour Suzuki, pour JLR et pour Daihatsu
(Autre FVDI ne supporte pas)
Soutenir tous les 19 logiciels jusqu'à l'année 2019
Ajoute 19 logiciels que FVDI 2018
La différence entre SVCI 2020 et SVCI 2018
La différence entre SVCI 2020 et SVCI 2018

La différence matérielle est que le SVCI 2020 a moins de piles bouton que le SVCI 2018.
SVCI 2020 ne nécessite pas d'activation, ne verrouille pas la machine, et le numéro de série n'est pas perdu.
Software Difference:
SVCI 2020 has 19 more software than SVCI 2018
1.ABRITES Commander for VAG V37.0,
2.ABRITES Commander for BMW V10.5,
3.ABRITES Commander for Mercedes V10.4
4.ABRITES Commander for Bikes V2.0
5.ABRITES Commander for Chrysler V3.4
6.ABRITES Commander for Daihatsu V1.4
7.ABRITES Commander for FIAT V7.6
8.ABRITES Commander for Ford V7.7
9.ABRITES Commander for Hyundai V4.4
10.ABRITES Commander for JLR V2.6
11.ABRITES Commander for Mitsubishi V3.7
12.ABRITES Commander for Nissan V5.7
13.ABRITES Commander for OPEL V7.5
14.ABRITES Commander for Porsche V7.1
15.ABRITES Commander for PSA V6.3
16.ABRITES Commander for Renault V7.4
17.ABRITES Commander for Suzuki V1.2
18.ABRITES Commander for Toyota V11.4
19.ABRITES Commander for Volvo V6.2
These 19 softwares are all the latest software.
Ces 19 logiciels sont les derniers logiciels, prennent en charge le diagnostic de défaut du nouveau modèle de 2019, effacer le code de défaut, lire le flux de données, le test d'action et d'autres fonctions de base,
et actuellement ne prennent pas en charge les fonctions spéciales.Parmi eux, pour Suzuki, pour Daihatsu contient des fonctionnalités spéciales
SVCI 2020 Software Installation:
There is only one executable file on the CD-ROM.
Double-click "AbritesCommanderSetup.exe" to start the installation.
Do not plug the USB into the computer during the installation.
After the installation is complete, connect the USB to the computer.
How to use SVCI 2020 Quick Start Software
SVCI 2020 Quick Launch Software has 42 shortcut icons. Left-click the icon to launch the corresponding software.
Compared to the quick launch of SVCI 2018, the activation dialog is not displayed after clicking the icon.
The last icon is the firmware upgrade program. Click it to start the firmware upgrade program.
You must be online to download the latest firmware program. After downloading, click Update to update the firmware program.
After clicking the icon, the dongle program icon will appear in the tray at the bottom right corner of the computer.
The dongle program cannot be exited while the software is running.
SVCI(FVDI) Hardware Comparison
FVDI 2014
FVDI 2015
SVCI 2018
SVCI 2020
support softwares
AVDI 18 software
AVDI 18 software
AVDI 18 software+
VVDI2 software
AVDI 21 software+
VVDI2 software
Software version
One version
two version
two version
three version
Support the years of
Vehicle manufacture
before
2014MY
before
2015MY
before
2015MY
before
2019MY
connection network
NO
YES
YES
NO
Online activate
NO
YES
YES
NO
useful life
forever
5 years
5 years
forever
stability
Strong
general
general
Strong
needs repaired
No
may be
may be
No
SVCI(FVDI) Software Comparison
FVDI 2014
FVDI 2015
SVCI 2018
SVCI 2020
Jaguar/
Land Rover
x
x
x
v2.6
Suzuki
x
x
x
v1.2
Daihatsu
x
x
x
v1.4
VVDI
x
x
v1.2.2
v1.2.2
VW/Audi/
Skoda/Seat
v18.0
v18.0
v24.0
v18.0
v24.0
v18.0
v24.0
v37.0
BMW/Mini
v10.4
v10.4
v10.4
v10.4
v10.5
Mercedes_Benz/
Smart/MAYBACH
v5.11
v5.11
v7.0
v5.11
v7.0
v5.11
v7.0
v10.8
Renault/Dacia
v5.2
v5.2
v6.3
v5.2
v6.3
v5.2
v6.3
v7.4
Peugeot/Citroen
v5.10
v5.10
v6.7
v5.10
v6.7
v5.10
v6.7
v8.0
Fiat/Lancia/
Alfa/FCA
v5.1
v5.1
v5.7
v5.1
v5.7
v5.1
v5.7
v7.6
Opel/Vauxhall
v5.8
v5.8
v6.6
v5.8
v6.6
v5.8
v6.6
v7.5
Ford/Mazda
v4.9
v4.9
v4.9
v4.9
v7.7
Chrysler/Doge
/Jeep
v3.3
v3.3
v3.3
v3.3
v3.4
Toyota/Lexus/
Scion
v9.0
v9.0
v9.0
v9.0
v11.7
Nissan/Infiniti
v4.3
v4.3
v4.3
v4.3
v5.7
Hyundai/KIA
v2.1
v2.1
v2.1
v2.1
v4.4
Volvo
v4.3
v4.3
v4.3
v4.3
v6.2
Mitsubishi Motors
v2.1
v2.1
v2.1
v2.1
v3.7
Porsche
v4.1
v4.1
v4.1
v4.1
v7.1
DAF
v1.0
v1.0
v1.0
v1.0
Bikes/
Snowmobiles/
Water scooters
v1.2
v1.2
v1.2
v1.2
v2.0
TagKeyTool
v6.2
v6.2
v6.2
v6.2
SVCI(FVDI) Supports the Years of Vehicle Models
FVDI 2014
FVDI 2015
SVCI 2018
SVCI 2020
Jaguar/Land Rover
x
x
x
before
2016MY
Suzuki
x
x
x
before
2019MY
Daihatsu
x
x
x
before
2019MY
VW/Audi/Skoda/Seat
before
2014MY
before
2015MY
before
2015MY
before
2019MY
BMW/Mini
before
2014MY
before
2015MY
before
2015MY
before
2019MY
Mercedes_Benz/Smart/
MAYBACH
before
2014MY
before
2015MY
before
2015MY
before
2019MY
Renault/Dacia
before
2014MY
before
2015MY
before
2015MY
before
2019MY
Peugeot/Citroen
before
2014MY
before
2015MY
before
2015MY
before
2019MY
Fiat/Lancia/Alfa/FCA
before
2014MY
before
2015MY
before
2015MY
before
2019MY
Opel/Vauxhall
before
2014MY
before
2015MY
before
2015MY
before
2019MY
Ford/Mazda
before
2014MY
before
2015MY
before
2015MY
before
2019MY
Chrysler/Doge/Jeep
before
2014MY
before
2015MY
before
2015MY
before
2019MY
Toyota/Lexus/Scion
before
2014MY
before
2015MY
before
2015MY
before
2019MY
Nissan/Infiniti
before
2014MY
before
2015MY
before
2015MY
before
2019MY
Hyundai/KIA
before
2014MY
before
2015MY
before
2015MY
before
2019MY
Volvo
before
2014MY
before
2015MY
before
2015MY
before
2019MY
Mitsubishi Motors
before
2014MY
before
2015MY
before
2015MY
before
2019MY
Porsche
before
2012MY
before
2012MY
before
2012MY
before
2019MY
DAF
before
2012MY
before
2012MY
before
2012MY
before
2019MY
Bikes/Snowmobiles/
Water scooters
before
2012MY
before
2012MY
before
2012MY
before
2019MY
TagKeyTool
before
2015MY
before
2015MY
before
2015MY
before
2015MY
VVDI
before
2015MY
before
2015MY
before
2015MY
before
2015MY

V2020 FVDI Connection Display
Package includes:
1pc x SVCI FVDI V2020 Original FVDI ABRITES Commander FVDI Full Version FVDI 2020 Auto Diagnostic Tool

Contact information:

Phone Number: 86-18995643579

E-mail:Sales@EOBDII.fr

Skype:sales@eobdii.fr

Whatsapp: 86-18995643579


Kindly Note: Pour les clients de GUADELOUPE et MARTINIQUE, il n'y a pas de bon service postal
Lorsque vous passez commande, veuillez choisir la méthode d'expédition express