Description du produit
VPECKER E4 phone is an android based multi-functional diagnostic Application in the phone by IDUTEX, covering over 73 manufactures. It meets the customer's requirement and would be the best choice for workshop and mechanics.
VPECKER E4 Phone Bluetooth Full System OBDII Scan Tool for Android Support ABS Bleeding/Battery/DPF/EPB/Injector/Oil Reset/TPMS
VPECKER E4 phone, gasoline version of the smart car diagnostic tool, covering over 78 manufactures from Asia, America, Europe, Australia, and featuring powerful diagnostic functions with overall special functions.
Vpecker E4 Highlights:
1. Accurate OBD Interface, include 16 gilded pin.
2. Enable the VPECKER to get closer to the car.
3. Send signal for system efficiently accept and deal with the data.
4. VPECKER E4, android based multifunctional diagnostic tool with 8 inch tablet developed by IDUTEX, covering over 78 manufactures from Asia(China, Japan, Republic of Korea, Malaysia ), America, Europe, Australia, featuring powerful diagnosing functions with overall special functions(resetting & coding & programming) , and professional data replay, data stream analysis for automobile repacking, It meets the customer's requirement and would be the best choice for workshops and mechanics.
5. VPECKER E4 include global version, Chinese version, Indian version, Malaysian version, Taiwan version, Australian version, now it supports 22 languages, plan to support 50 languages.
Vpecker E4 Bluetooth Scan Tool Features:
1. Works on android device with android system above 4.4.
2. Extensive vehicle coverage for most US, Asian ,European and Australian vehicle makes.
3. latest and wide vehicles Coverage, more makes covered to 2018 or 2019.
4. Powerful diagnostic functions and hot special functions including ABS, BATTERY,DPF,EPB, IMMO Keys, INJECTOR, Oil Reset, SAS, Throttle, TPMS.
5. One key update/logging/test report/feedback/function list via WIFI.
6. Unparalleled OBDII functionality, support all 5 OBDII protocols and all 10 test modes.
7. Work stably and smoothly in high and low temperature environment.
8. Support multiple languages.
9. 8 inch multi-touch screen.
10. Automatically Wi-Fi intelligence update.
Multi-Languages:
Supporting more 22 languages, including English, Japanese, German, Russian, French, Italian, Spanish, Portuguese, Polish, Turkish, Dutch, Hungarian, Korean, Czech, Arabic, Indonesian, Persian, Thai, Vietnamese, Finnish, Swedish, Romanian, etc.
Vpecker E4 Function Coverage:
Quick Test
Read ECU Info.
Read DTCs
Erase DTCs
Clear learning value
Data Stream
Actuations
Read freeze frame data
Read/Write VIN
Basic Reset
Control unit adaptations
Throttle adaptations
Air bleeding
Level calibration
Theft alarm Reset
Key programming
Oil change, Idle speed learning
Idle speed Adjustment
Ignition timing adjustment
Camshaft timing control learning
Maintenance functions
ECU Initial startup
ECU initialization
Vehicle Coverage:
US domestic:
Chrysler, Ford, GM, Jeep, Scion, etc.
Europe:
Abarth, Alfa, Aston, Audi, Bentley, Benz, Bmw, Bugatti, Citroen, Dacia, Ferrari, Fiat, Fordeu, Jaguar, Lamborghini, Lancia, Landrover, Maserti, MINI, Opel, Peugeot,Porsche, Renault, SAAB, Seat, Skoda, Smart, Vauxhall, Volvo, VW, etc.
Asia:
Acura, Asiagm, Daewoo, Daihatsu, Honda, Hyundai, Infiniti, Isuzu, KIA, Lexus,Mazda, Mitsubishi, Nissan, Ssangyong, Subaru, Suzuki, Toyota, etc.
Australia:
Holden, Ford (Australia).
China:
BYD, Changan, Changhe, Chery, Emgrand, Englon, Foton, Geely, Gleagle, GWM, HBSH, Huachen, Lifan, Wuling, Yuan, etc.
OBD-II
Chrysler, Ford, USA GM, Toyota, Lexus, Honda, Hyundai, Kia, Mazda, Mitsubishi, Nissan, Subaru, Suzuki, Abarth, Aston Martin, Bugatti, Ferrari, Lamborghini, Maserati, Benz, BMW, VW, Audi, Seat, Skoda, Porsche, Jaguar, Landrover, Volvo, Saab, Alfa.
System Coverage
ME-Motor electronics
CDI-Common Rail Diesel Injection
ETC-Electronic transmission control
ESM-Electronic selector module
SBC- Sensotronic Brake Control
ESP-Electronic stability program
BAS-Brake assist
Suspension
TPC-Tire pressure monitor
Airbag
CGW-Central gateway
EIS-Electronic ignition switch
OCP-Overhead control panel
UCP-Upper control panel
XALWA-Xenon headlamp
HRA-Headlamp range control
ATA-Anti-theft alarm system
IC-Instrument cluster
ASSYST-Active Service System
SCM-Steering column module
EPS-Electrical power steering
PTS- Parktronic system
EPB-Electric parking brake
COMAND/AUDIO
CD/DVD
TV tuner
CTEL-Cellular telephone
DCM-Door control module
ESA driver-Electric seat adjustment driver
ESA passenger-Electric seat adjustment passenger
AAC-Air conditioning
WSS-Weight sensor system
SVMCM-Special vehicle multifunction control module
etc….
Extensive system coverage, can detect all the electronic units in cars.
The data accuracy can be compete with OEM level.
The running speed and operation experience can be better than OEM equipment.
User experience and visual effect are more better than OEM equipment.
Main Interface: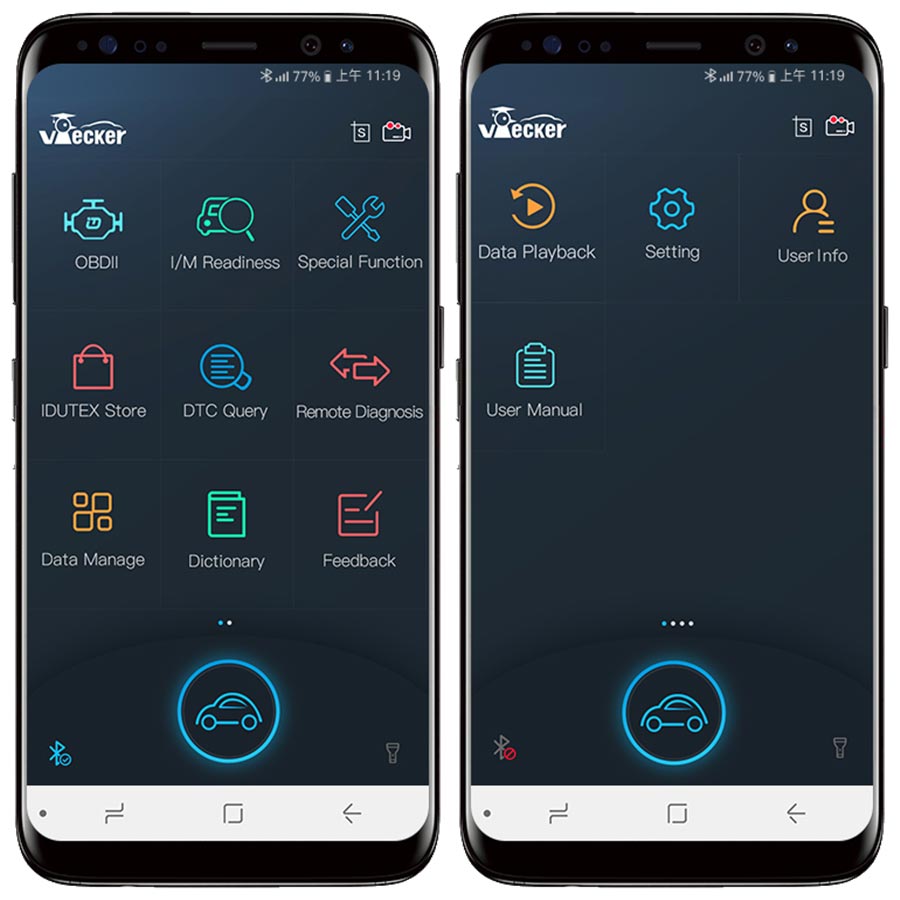 Function Introduction:
OBD2 adapter can be compatible with all 16 pin vehicle.
Online intelligence upgrade, support many intelligent way of upgrading.
Powerful diagnostic functions covers DTC, data stream,component testing and freezeframing, coding/restting/programming ect...
Some software realize smart intelligence of vehicle info and support test track.
Beautiful UI interface, easy operation, good experience.
Intelligent VCI built-in overvoltage automatic protection function, which ensures the diagnostic tool and vehicle are not damaged by accidental damage.
Work stably and smoothly in high and low temperature environment.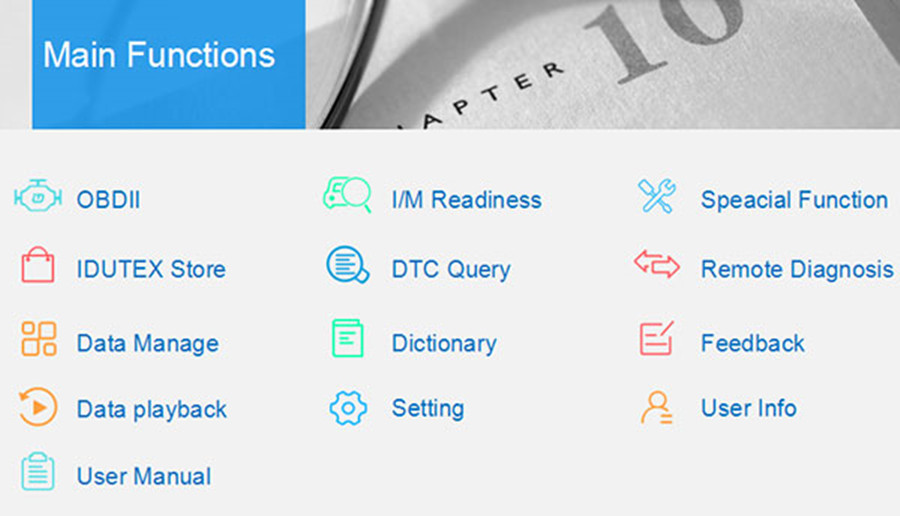 Hardware Display: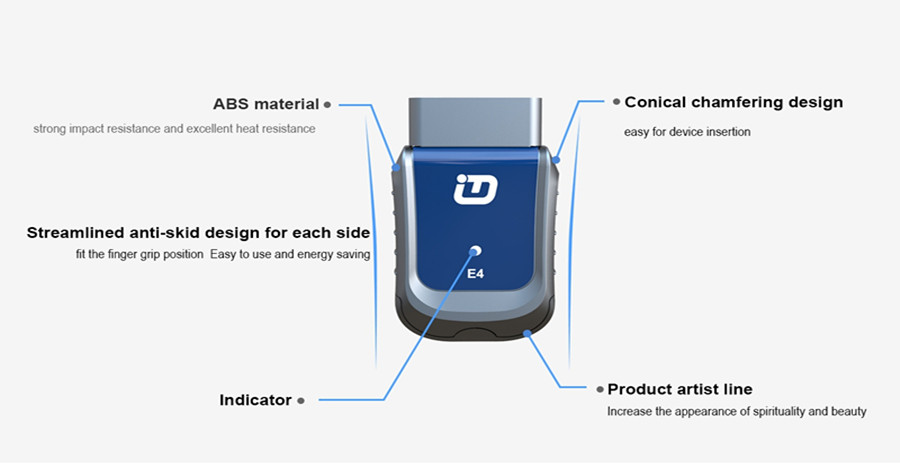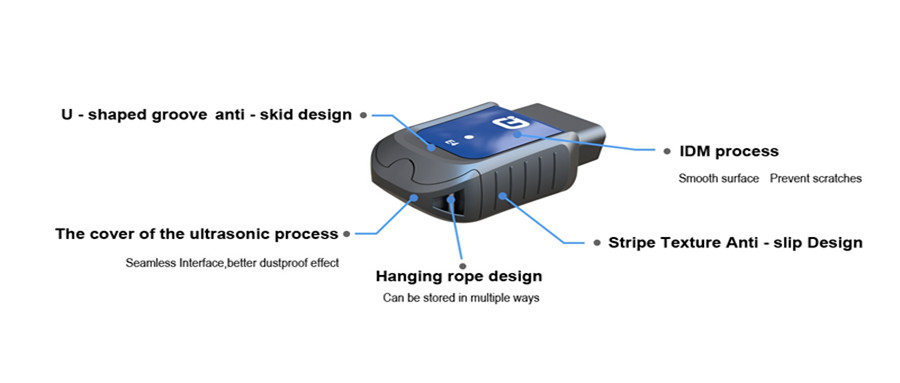 Activation:
Diagnosis Function: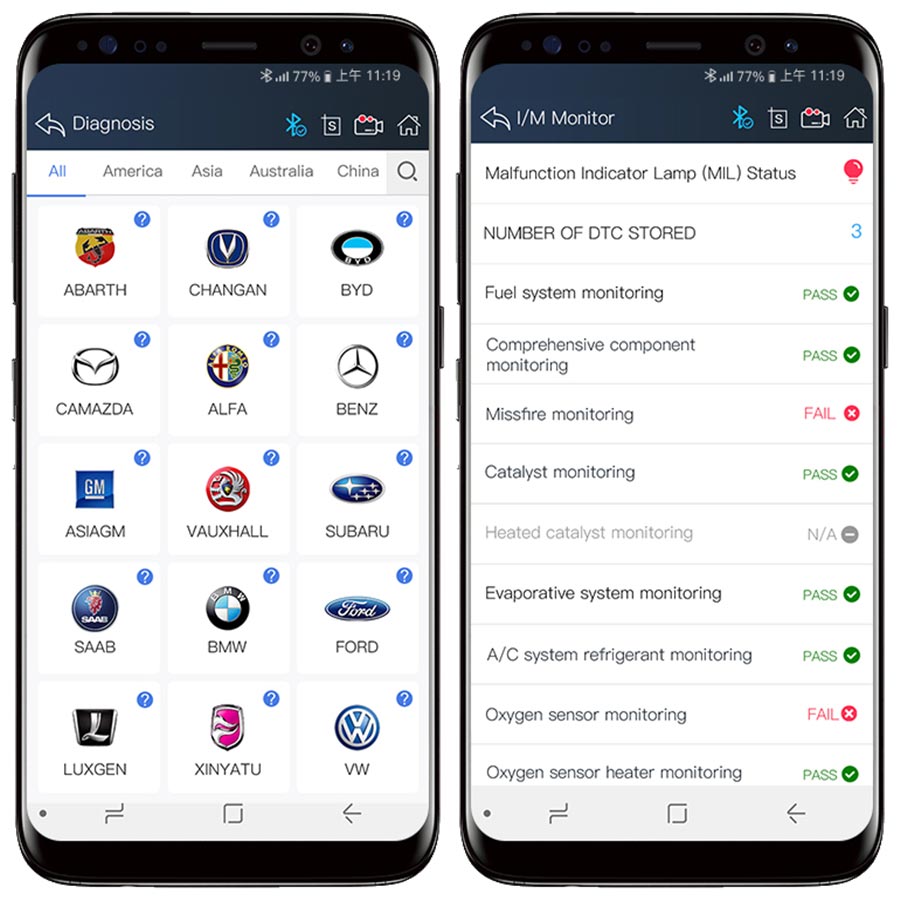 Function Button Description: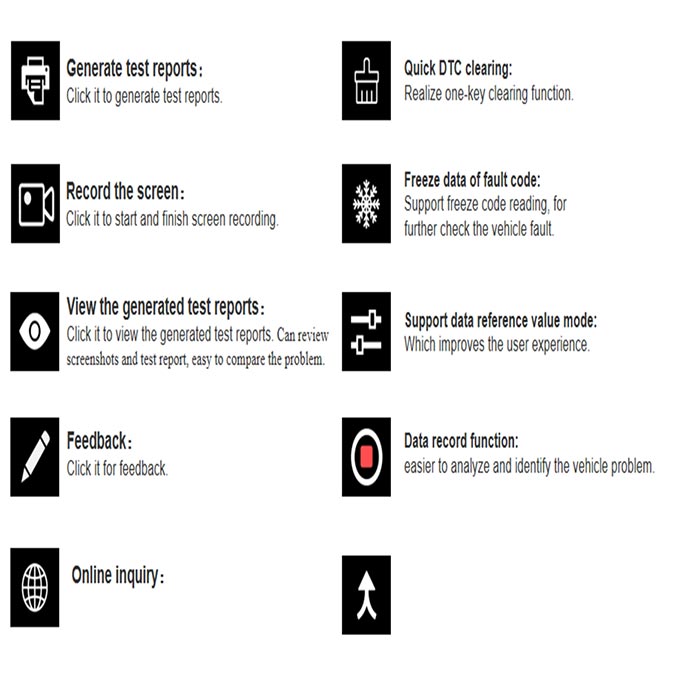 BMW Menu Selection: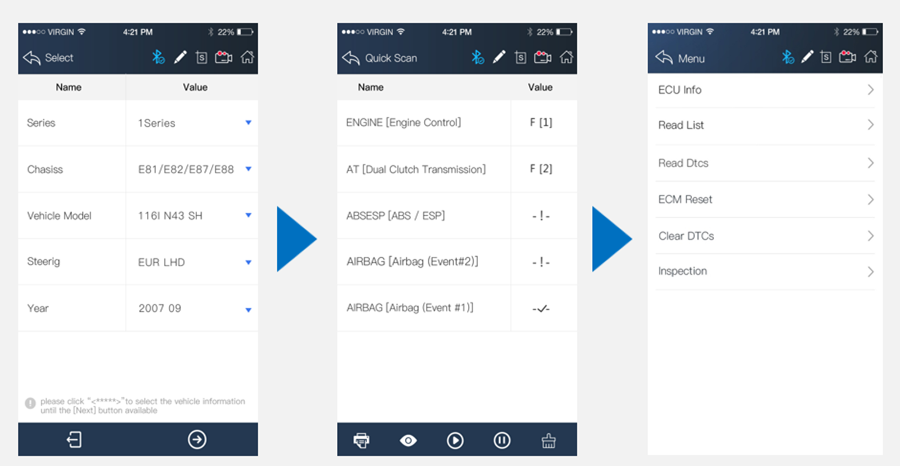 BMW ECU Info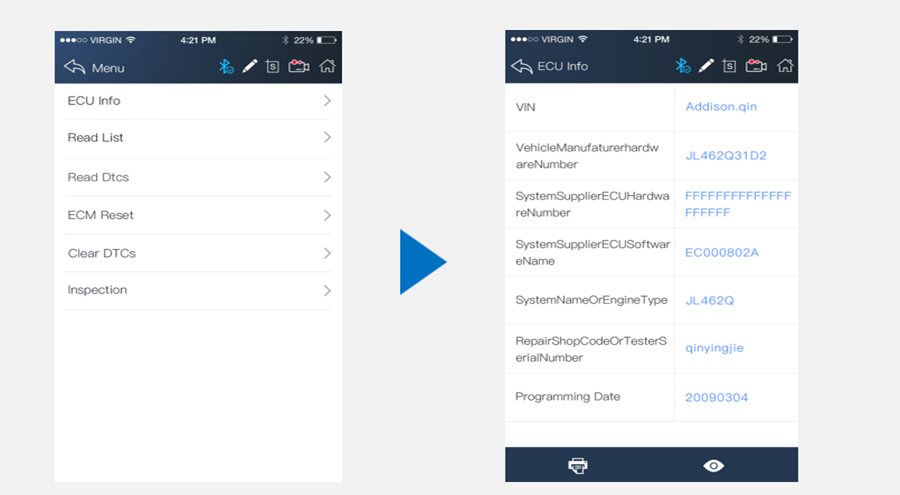 BMW Read DTCs:
BMW Data Stream: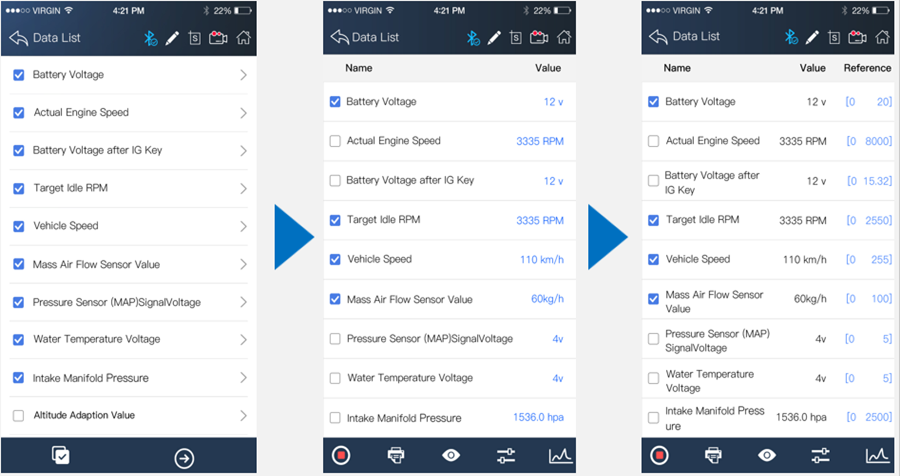 BMW Data Stream Waveform: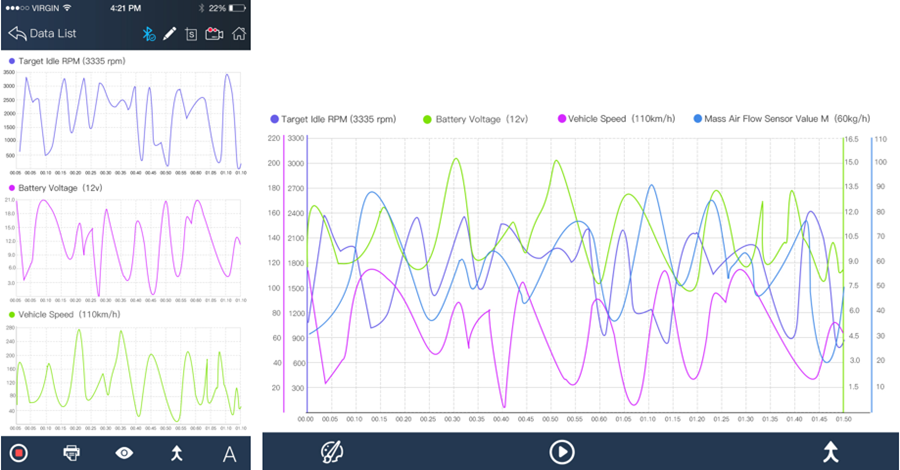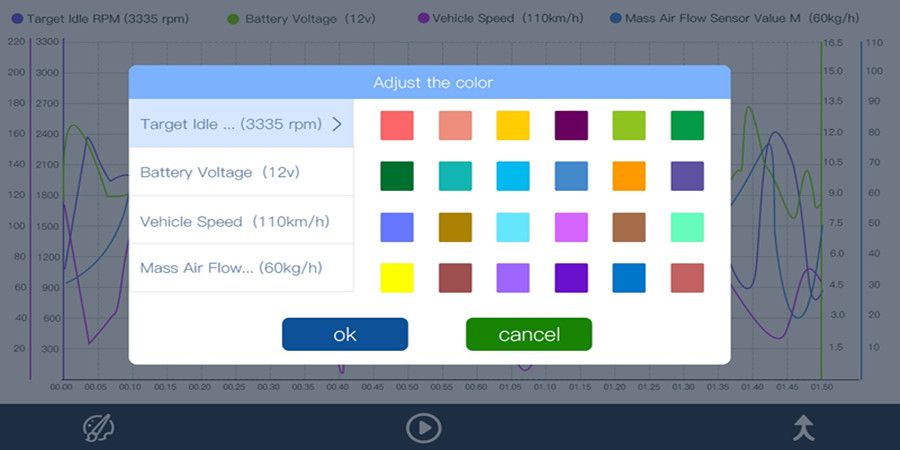 Professional waveform display, can enlarge and diminish waveform for users to better analyze the feature of every wave band under any vehicle conditions , make it convenient to analyze and identity the vehicle fault. Support DIY function, can simultaneously analyze the situation of 4 data stream, and users can make DIY function toward data stream according to their demands.
Package List:

1PC x Packing Box
1PC x VPECKER VCI
1PC x Bluetooth
1PC x String
1PC x Quick Start Guide
1PC x Password Envelope

Contact information:

Whatsapp: +8618995643579

E-mail:Sales@eobdii.fr





Méthode d'expédition et délai de livraison:

Navire d'entrepôt de l'UE: 3-7 jours ouvrables. Il y a des produits chauds dans l'entrepôt britannique. Expédier de l'entrepôt britannique n'est pas nécessaire pour payer les droits de douane.
Expédition DHL: 5-7 jours ouvrables. Parfois, il y a des droits de douane, nous allons donc déclarer un prix inférieur sur la facture. Si l'adresse est une région éloignée, vous devez payer le fret à distance ou nous l'enverrons par une autre méthode.
Yanwen Poste: 15-18 jours ouvrables, pas besoin de payer les droits de douane pour les pays européens et il n'y a pas de régions éloignées.
4PX Express: 7-10 jours ouvrables, il n'y a pas de taxe.

Kindly Note: Pour les clients de GUADELOUPE et MARTINIQUE et Réunion, il n'y a pas de bon service postal
Lorsque vous passez commande, veuillez choisir la méthode d'expédition express