Description du produit
Xtool KC501 is a professional Key & chip programmer which can not only read,write keys and read key remote frequency, but also generate dealer keys. It support read and write MCU/EEPROM chips, read and write Mercedes Infrared keys. Moreover, it support PC connection which brings you better user experience.
XTOOL KC501 Mercedes Infrared Key Programming Tool Support MCU/EEPROM Chips Reading&Writing Work with Xtool X100 PAD3/X100 PAD Elite
Points forts de Xtool KC501
♦.Read and write keys
KC501 support read and write keys,support read key remote frequency as well as generate dealer's key
♦.Read and write MCU/EEPROM Chips
♦.Read and write Mercedes Infrared Keys
♦.KC501 Support PC Connection or tablet
♦.Generate Dearler Keys
♦. Read remote frequency
♦. Support 124 kind of EEPROM, 7 MCU、11 ECU
♦. Can work with Xtool PAD3 ,H6Elite,H6EB,NITRO LT,AutoProPADS,X100 PAD Elite,A80 Pro,A80 Pro Master,NITRO XT,NITRO GT,AutoPro PAD Elite
Xtool KC501 Fonctionnalités
1.Powerful Function for Chip Reading and writing
KC501 supports reading, writing, erasing and other functions of various chips such as registers, microcontrollers, anti-theft, etc., and supports more than 120 EEPROM, 7 MCU, and 11 ECU read and write functions.

2.Full-Featured Key Programming Function
It supports automatic key recognition, partial key reading and writing, key generation, key information reading, key check lock, key unlock and other functions.

3.Compatible with multiple devices, expanding anti-theft matching
It can be connected to the tablet as an anti-theft match, and supports the connection of X100 PAD3
KC501 Les fonctions

►Support registers, microcontrollers, key programming and other types of chips read/write, anticipate and other functions;

►Support key automatic identification, partial key reading, key generation, key reading information, key check, key unlock and other functions;

►Can be put in use with tablets for immobilization.

►EZS for Mercedes Key Programming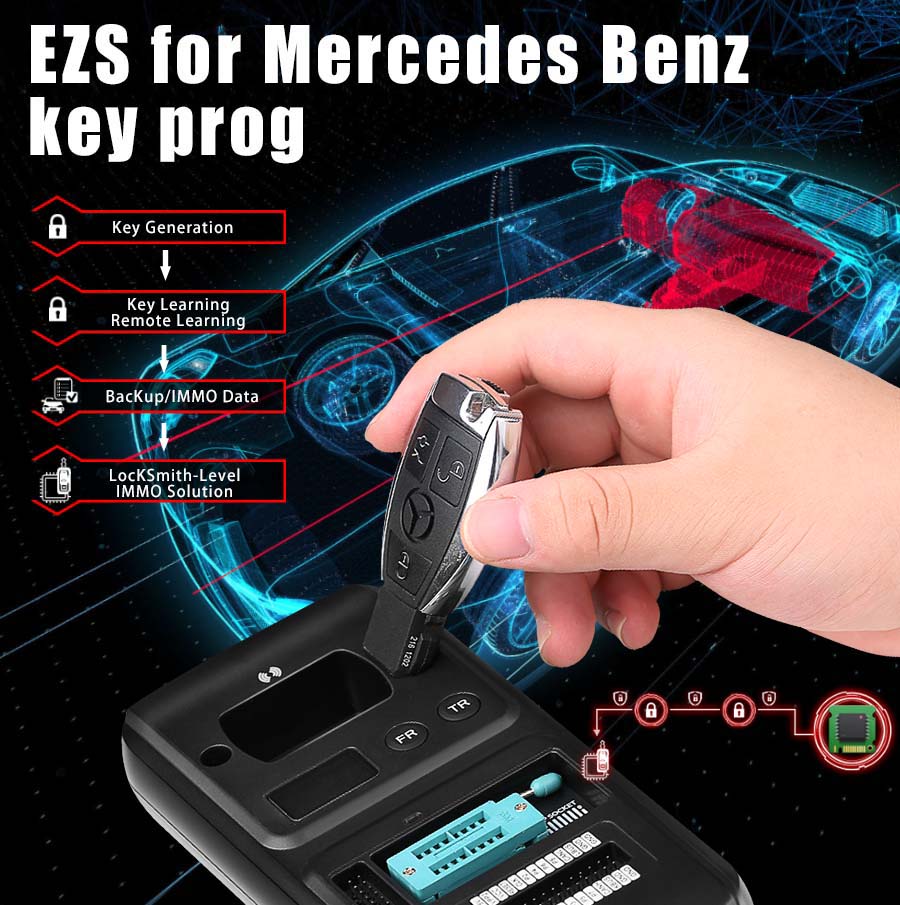 ►Car Key Remote Control Frequency Test


►EEPROM Read&Write Chip


►MCU Read&Write


►ECU Programming Clone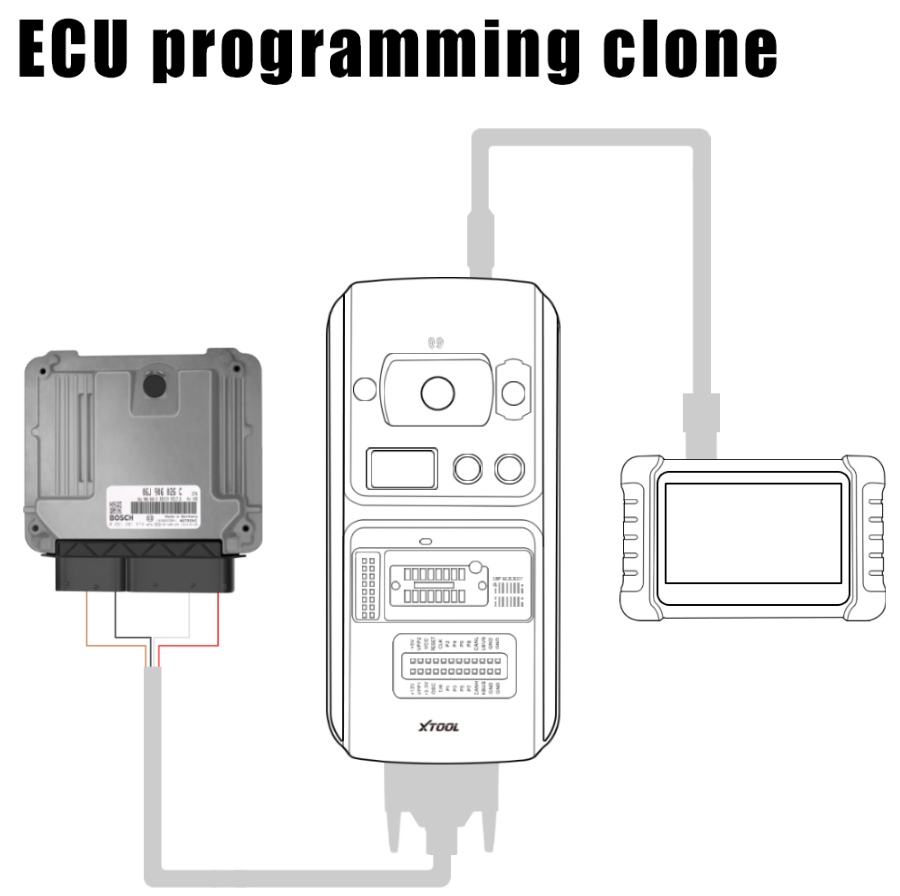 Xtool KC501 Programmer Interface Instructions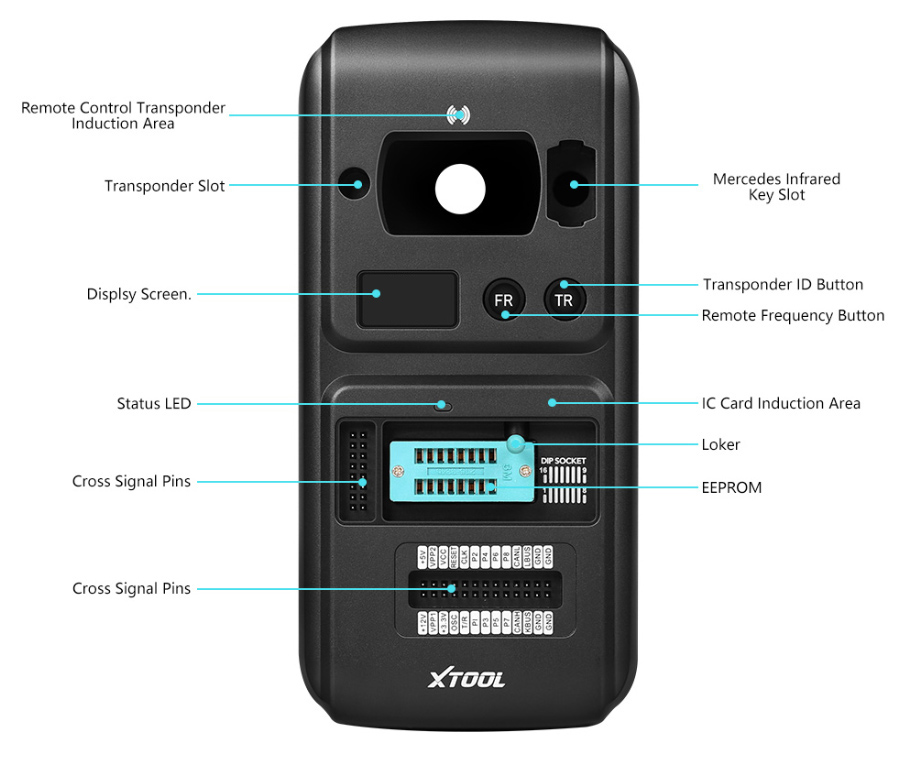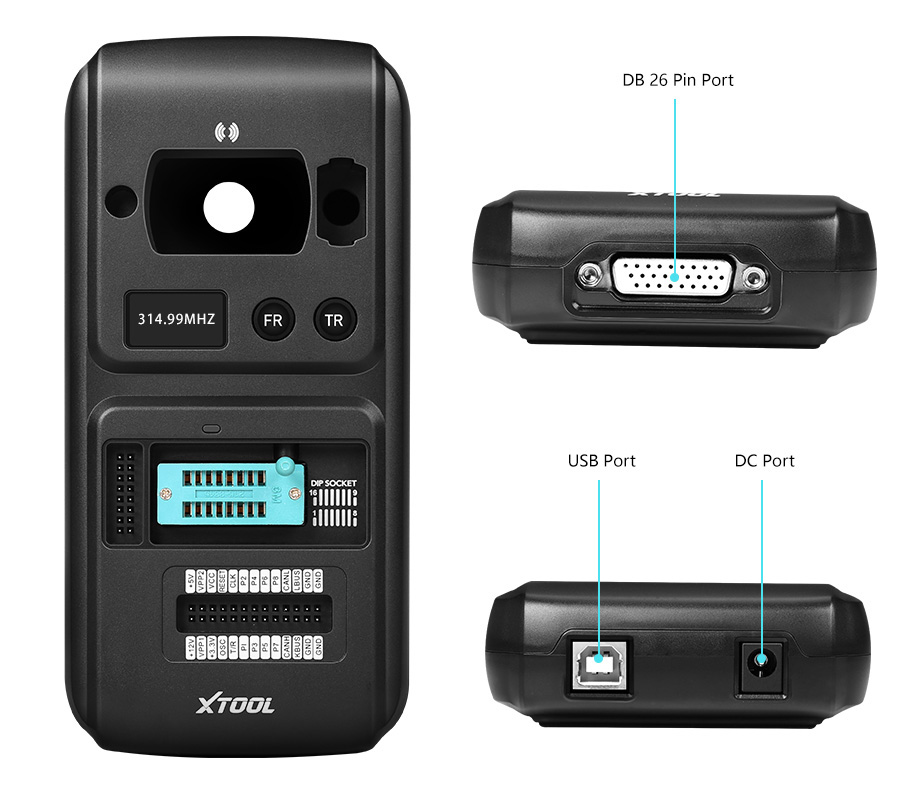 1. DC Port: It provides 12V DC power supply.
2. USB Port: It provides data communication and 5V DC power supply. (The Type B USB port provides data communication and power supply for our device, PC and KC501.)
3. DB 26-Pin Port: It connects with the Mercedes Benz infrared cable, ECU cable, MCU cable, MC9S12 cable.
4. Cross Signal Pins: It holds the MCU board, MCU spare cable or DIY signal interface. (The Cross-shaped signal pin is used to place MCU board, MCU spare cable or DIY signal cable to read or write MCU and ECU chips.)
5. Locker: It locks the EEPROM component transponder slot to ensure proper functioning. (It is used to place EEPROM chip or socket to read or write EEPROM data.)
6. EEPROM Component Transponder Slot: It holds the EEPROM plug-in transponder or EEPROM socket.
7. Status LED: It indicates the current operating status.
8. IC Card Induction Area (It is used to read and write IC card data.)
9. Display Screen (It is used to show remote frequency or transponder ID.)
10. Remote Frequency Button (Press this button to show remote frequency in the display screen.)
11. Transponder ID Button (Press this button to show transponder ID in the display screen.)
12. Transponder Slot: It holds the transponder. (It is used to hold the transponder to read or write transponder data.)
13. Vehicle Key Slot: It holds the vehicle key. (It is used to hold the vehicle key to read or write vehicle key data.)
14. Remote Control Transponder Induction Area (It is used to read and write remote control transponder data.)
15. Mercedes Infrared Key Slot: It holds the Mercedes infrared key. (It is used to hold Mercedes infrared key to read or write Mercedes vehicle key data.)

Parameters:

Display Screen:320x480 dpi TFT Colorful Screen
Working Voltage:9V-18V
Working Temperature:-10℃-60℃
Storage Temperature:-20-60℃
Power supply:12V DC

Package includes:
1pc x
Certificate Of Quality
1pc x
EEPROM Adaptor (With bracket)
1pc x
KC501 Key & Chip Key Programmer
1pc x
Charger (With Power Supply Cable)
1pc x
Benz Infrared cable

Contact information:

Whatsapp: +8618995643579

E-mail:Sales@eobdii.fr





Méthode d'expédition et délai de livraison:

Navire d'entrepôt de l'UE: 3-7 jours ouvrables. Il y a des produits chauds dans l'entrepôt britannique. Expédier de l'entrepôt britannique n'est pas nécessaire pour payer les droits de douane.
Expédition DHL: 5-7 jours ouvrables. Parfois, il y a des droits de douane, nous allons donc déclarer un prix inférieur sur la facture. Si l'adresse est une région éloignée, vous devez payer le fret à distance ou nous l'enverrons par une autre méthode.
Yanwen Poste: 15-18 jours ouvrables, pas besoin de payer les droits de douane pour les pays européens et il n'y a pas de régions éloignées.
4PX Express: 7-10 jours ouvrables, il n'y a pas de taxe.

Kindly Note: Pour les clients de GUADELOUPE et MARTINIQUE et Réunion, il n'y a pas de bon service postal
Lorsque vous passez commande, veuillez choisir la méthode d'expédition express