Description du produit
LAUNCH X431 PRO MINI is obd2 scanner with Bi-Directional Control which issued to request information or command a module to perform specific tests and functions, it can do some actuation test, for example , turning on and off the a/c clutch, fuel pump, purge control solenoid and etc.. It is professional DIY automotive tool for mechanic.Wi-Fi connection; one-click update online for 2 years free; perform remote diagnosis
Launch X431 Pro Mini Bluetooth avec 2 ans de mises à jour gratuites en ligne, plus puissantes que celles de Diagun




Why choose launch x431 PRO MINI ?

1.Support Active Test

2.Bidirectional Control

3.ECU Coding support

4.Full Systems Diagnoses

5.Comes with 11 Service Functions

6.Adaptation+ Matching+ Reset + Initialization + Coding

7.OVER 10000+ Cars supported

8.Read ECU Version

9.Multi-Languages: English, Arabic,Polish, German, Russian, French, Finnish, Dutch, Czech, Portuguese, Spanish, Hungarian
Italian, Japanese, Swedish, Turkish, Greek, Denish, Korea can be chosen for this product.

X431 Pro Original Bluetooth Distance: 10M (Without Obstacle)

LAUNCH SOLE AGENT :

Dealer Code: 755D
2 Years Free update
WiFi Update Online via One-Click update
After 2 years update fee is 399USD/year, 599USD/two years.
Dealer Code for Registration: 755D/Updating Website: www.dbscar.com/24 Hours Hassle-Free Technic Support

X-431 PRO MINI Description

【BI-DIRECTIONAL + ACTUATION TEST 】: LAUNCH X431 PRO MINI is obd2 scanner with Bi-Directional Control which issued to request information or command a module to perform specific tests and functions,
it can do some actuation test, for example , turning on and off the a/c clutch, fuel pump, purge control solenoid and etc.. It is professional DIY automotive tool for mechanic.

【ALL SYSTEM DIAGNOSTIC TOOL 】: Launch X431 Pro mini is a powerful automotive diagnostic tool, read and clear fault codes for all system of car such as Engine, ABS, SRS, Transmission,
Brake system, Emission system, Fuel system, Light system, Wiper system, Body, Power strain, Chassis, etc.

【11 RESET SERVICES + Key Fob Programming 】: Key Fob Programming, Injector Coding, Oil Reset Service, RESET IMMO, Steering Angle Calibration , Electronic Parking Brake Reset,
Battery Register/Battery Maintenance, ABS Bleeding, Electronic Throttle Position Reset/Relearn, Diesel Particulate Filter (DPF) Regeneration, Tire Pressure Monitor System Reset, Gear Learning.

【 Advanced Features 】: 『One-Click Update, NO IP Limited 』; 『 2 Years Free Update 』; 『 Feedback Diagnosis 』: For any problems found during the diagnosis, submit the feedback and LAUNCH professional experts will provide perfect solutions for you ASSP;
『 Remote Diagnosis 』: Tech to Tech perform remote assistance; 『Live Data Graphing』; 『 Maintenance Help 』: Including How-to Videos, operation skills, and user manual, Q&A, Quick start guide, etc.

【 EXTENSIVE VEHICLE COVERAGE 】: X431 pro mini can diagnose the electronic control system of prevailing vehicle models covering Asian, European, American and China, up to 108 car brands, over 10000 car models.
Full range car models and full car system diagnose make it a professional automotive diagnostic tool! 5 YEARS ! ! ! If you have any question about this product, you can ask a question on this page or send email to us, we will help you, thank you !

Bidirectional Control Diagnostic Tool

Bi-Directional / Active test : This diagnostic tool supports active test (Bi-directional control) to request information or command a module to perform specific tests and functions. such as turning the fuel pump on and off, cycling the a/c clutch on and off.

Key FOB Programming: Matching used to disable the lost vehicle keys and programing a new replacement key fob.

ECU Coding: Every automobile actuator has a record code in ECU, which is the basis for automobile computer to mobilize their work. LAUNCH pro mini is equipped with advanced ECU coding function for addressing the following issues:

1. After you change the bad actuators or certain parts, you need to use this function to make a new code and recognize the new actuators.

2. ECU coding enables multiple car systems to recognize each other and then the actuators can start to work.

!!!!Note: ECU Coding and Key FOB Programming are not universally compatible with all vehicles! Send us VIN number to check compatibility.

Diagnostic Report Print: Launch pro mini can generate vehicle heath report to your email, then you can download the report on computer to print.

2 YEARS Free Update:One-Click update online via WIFI.

Remote Diagnosis: Realize remote diagnosis between maintenance enterprises ,and between maintenance enterprises and customers



Launch x431 pro mini work for ALL SYSTEM :

1. Engine drive system

2. ABS System

3.Automatic Transmission

4.SRS-Airbag

5.Suspenstion System

6.Safety Alarm System

7.Audio System

8.IMMO Immobilizer System

9.DPF System

10.ESP ASC Brake System

11.ACC System

12.Air Conditioning System

13.Auto Headlamp System

14.Car Radio Audio System ...........etc.

X-431 PRO MINI Features

1. Diagnostic Tool:
A. Diagnose
Diagnose the electronic control system of prevailing vehicle models covering Asian, European, American and Chinese. Diagnosis functions include: Read DTCs, Clear DTCs, Read data stream, Special functions etc.

Specially designed for Android platform with clear and user-friendly interface.

Via Bluetooth, it is simple for the VCI module to communicate with X-431 PRO MINI.

Equipped with an exclusive X-431 PRO MINI protective sleeve to prevent it from being damaged.

B. One-click Update: Lets you update your diagnostic software more efficiently. To obtain better function and update service, advise you update the software regularly.
C. Repair Data: provides abundant automotive handbook, repair case and wiring diagrams for reference and retrieval.
D. Remote Diagnosis: configures X-431 PRO MINI as an I/M(Instant Messaging) tool, which enables technicians to exchange repair experience and perform remote assistance more conveniently.

2. Browser: built-in Wi-Fi module makes surfing on the internet freely.

3. Email: allows you to send and receive emails.

4. Settings: to configure your personalized X-431 PRO MINI through it.

5. Applications: other android based applications can be customized to install or uninstall.

6. Special functions:

Launch X-431 PRO MINI can program and code the electronic control system of prevailing vehicle models, also perform special functions, including:
Oil Reset Service
Steering Angle Calibration
Electronic Parking Brake Reset
Battery Register / Battery Maintenance
ABS Bleeding
Electronic Throttle Position Reset / Learn
Diesel Particulate Filter (DPF) Regeneration
Tire Pressure Monitor System Reset
Gear Learning
Immobilizer Matching
Fuel Injector Coding



7. Wide Vehicle Coverage

X-431 PRO MINI supports all electronic control systems on 12V EFI models, incl. more than 150 European, American and Asian models
like Maserati, Ferrari, Rolls Royce, Bentley, Mercedes-Benz, BMW, Audi.Diagnose the electronic control system of prevailing vehicle models covering Asian, European, American and Chinese.
It achieves full car model and full system vehicle trouble diagnosis

8. Powerful Diagnosis: Accurate
Launch has rich experience of automotive diagnostic technology (for more than 20 years). It also develops original equipments for a vast majority of Chinese brands of automotive factories,
so that X-431 PRO MINI performs diagnosis (fault code, data stream, action test and other functions) as the dealership.

9. Powerful Diagnosis: Fast
X-431 PRO MINI can perform full system diagnosis and one button to clear codes at a high speed. It's easy to operate.

10. Data Stream record and playback
Record and playback the data stream help you analyze the trouble when driving and solve it.

11. VINSCAN
Automatic scan (OBD VIN) and manual input (INPUT VIN) are available.

12. View History
Generally once a vehicle diagnosis is performed, X-431 PRO MINI will record the every details of diagnostic process.
The History function provides a quick access to the tested vehicles and users can resume from the last operation, without the necessity of starting from scratch.

13. Maintenance Help:
Including: How-to Videos, operation skills and user manual, Q&A, Quick start guide etc.

User registration
Tap "Login" on the upper right corner of the main menu screen: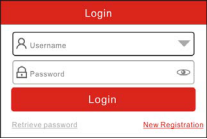 If you are a new user, tap "New Registration". See below picture.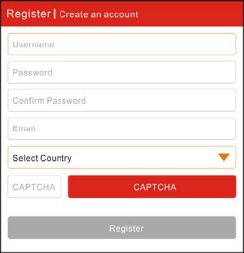 Note: To obtain better service, you need to provide real information.
Create App account: fill in the information in each field and then tap "Register", a screen similar to the following will appear: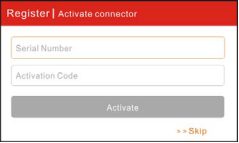 Activate the VCI module:
In the above figure, input the Serial Number and Activation Code, which can be found in the password envelope.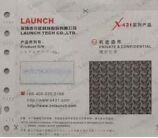 Note: To exit and activate it later, tap "Skip". In this case, you can activate your connector by tapping "Activate Connector" in "Personal Center".

Tap "Activate", a dialog box pops up saying congratulations! You have successfully completed your registration; the next step is to download the diagnostic software

Vehicle connection:
The method used to connect the VCI module to a vehicle's DLC depends on the vehicle's configuration as follows:
1.A vehicle equipped with an OBD II management system supplies both communication and 12V power through a standardized DLC.
2.A vehicle not equipped with an OBD II management system supplies communication through a DLC connection, and in some cases supplies 12V power through the cigarette lighter receptacle or a connection to the vehicle battery.

Follow the steps mentioned below to connect OBD II vehicle:
1. Locate vehicle's DLC socket.
2. Plug the VCI module into the vehicle's DLC socket (It is suggested to use the
OBD II extension cable to connect the VCI module and DLC socket.).


3. Choose one of the two ways to obtain power from:
A. Power adaptor: Connect one end of the included power adaptor to DC IN port of X-431 PRO MINI tablet, and the other end to AC outlet.
B. Internal battery pack

For non-OBDII vehicle, proceed as follows:
1. Locate vehicle's DLC socket.
2. Select the corresponding non-16pin connector.
3. Plug the non-16pin end of the connector into the DLC socket, then connect the other end to the OBD I adaptor, and then tighten the captive screws.
4. Connect the other end of the adaptor to the included VCI module.
5. To supply power to OBD I adaptor from:
A. Cigarette Lighter cable(optional): Connect one end of the cigarette lightercable to vehicle's cigarette lighter receptacle, and the other end to the power
jack of OBD I adaptor.


B. Battery Clamps Cable: Connect one end of the battery clamps cable to vehicle's battery, and the other end to the power jack of OBD I adaptor.



X-431 PRO MINI whole set: X-431 PRO MINI is mainly composed of an X-431 PRO MINI handset, and a DBSCar II VCI module.

X-431 PRO MINI handset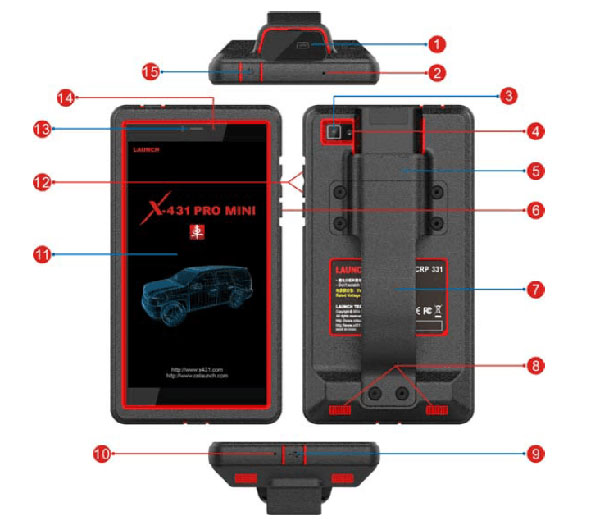 1 VCI module
2 Reset hole
3 Rear camera
4 Camera flash
5 Slot for VCI module For housing the VCI module.
6 POWER/Screen lock key In Off mode, press it to turn X-431 PRO MINI on; In On mode, turn X-431 PRO MINI off with long press or lock screen with short press.
7 Carry strap
8 Air intake vent
9 USB/Charging port To connect to the power adaptor for charging.
10 Microphone
11 LCD screen
12 VOLUME +/- Key To adjust the volume. To print the screen, hold and press the POWER and VOLUME – key until a snapshot pops up on the screen.
The captured snapshot is saved in the "Screenshots" folder.
13 Speaker
14 Front camera
15 Earphone Jack

X-431 PRO MINI Technical Parameters:

Operating system: Android 7.0
Processor :Quad core 1.3 GHz
Memory: 2GB
Storage:32GB
LCD screen: 7 inch with a resolution of 1024x600 pixels
Camera :Front-facing 2MP camera + rear-facing 5MP camera
Battery :3.7V/3000mh rechargeable polymer lithium battery
Connectivity : Wi-Fi: WLAN 802.11b/g/n ,Bluetooth: Bluetooth 4.1
Working temperature: 0℃ ~ 50℃

VCI module:
Working voltage 9 ~18V
Average working current About 85mA
Standby current About 55mA
Working temperature -10℃ ~ 55℃
Storage temperature -20℃ ~ 70℃
Relative humidity 20% ~ 90%

DBScarⅢ adapter parameters:
The brand-new DBScarⅢ adapter is small size and can be easily plugged into the handset to diagnose and matching, it tests car models stably, it supports
CAN diagnosis also USB data transfer.
Size: 69 × 40 × 18 mm
Operating voltage: 9V DC - 18V DC
Test voltage: DC12V
Typical power consumption: ≤2W
Bluetooth distance: 100 m
Connectivity: Bluetooth + wired
Operating temperature: -10℃to 50℃
Red Indicator: Turns red when connected to power supply;
blue Indicator: Turns blue then wireless Bluetooth work;
USB work: Turns green when the connector is connected to the USB cable

Package Includes:

1pc x X-431 PRO MINI tablet
1pc x Password envelope
1pc x VCI module (For connecting OBD II vehicles)
1pc x OBD II extension cable
1pc x OBD I adaptor (For connecting the non-16pin diagnostic connector and the
VCI module)
1pc x Battery clamps cable
1pc x Power adaptors
1pc x Non-16pin connectors (For connecting non-OBD II vehicle)

Launch X431 Pro Mini Display


Contact information:

Phone Number: 86-18995643579

E-mail:Sales@EOBDII.fr

Skype:sales@eobdii.fr

Whatsapp: 86-18995643579


Kindly Note: Pour les clients de GUADELOUPE et MARTINIQUE, il n'y a pas de bon service postal
Lorsque vous passez commande, veuillez choisir la méthode d'expédition express